Ridgeback Scoot 12"
00041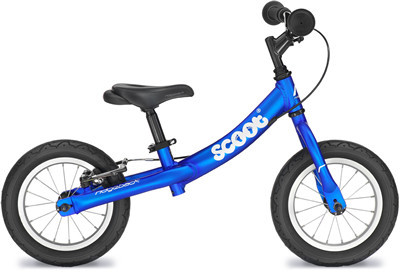 Key features include:
Lightweight aluminium frame with low step-over crossbar
Alloy rims with pneumatic tyres
Learn the basics of braking
Promotes learning through play
Teaches balance and co-ordination and develops confidence
Increases strength & physical fitness
With the Ridgeback Scoot, balance is quickly learned without
the distraction of pedaling.

The Scoot balance bike makes the transition between walking,
freewheeling and steering simple, whilst the rear brake
establishes early understanding of how to slow down. Once
balance is mastered, it's then just a small step to move onto a
bike with pedals without the need for stabilisers.

The high specification list includes a lightweight alloy frame,
alloy rims and semi-slick tyres. With full bearings throughout,
domed wheel nuts, safety tabs and a rear V-brake, there really
is no better beginner bike than the Ridgeback Scoot.